49 North Provides Motor Oil to Businesses of all Sizes in Regina.
Residents of Regina know how harsh temperatures can get in Saskatchewan. The winters are frigid and long, and the summers are hot and dry. With these two extremes constantly posing a challenge to businesses, it is a necessity to ensure your machinery, whether in the agricultural, construction, manufacturing, or trucking sector is well-maintained and the oil is checked consistently. From the proper motor oil product to antifreeze, we supply you with products that are built for our industries and our climate.
If you are in the Regina region and require full synthetic motor oil with formulations that can meet or exceed the OEM specifications and provide quality performance, 49 North Lubricants is here to provide you with these products, alongside outstanding expertise and customer service. By properly maintaining your engine oil from 49 North Lubricants, you can reduce maintenance costs, improve equipment performance and reliability, while decreasing lost revenue due to equipment downtime.
Full Performance Conventional & Synthetic Motor Oils in the Regina Region
49 North Lubricants offers both heavy-duty motor oil and passenger car motor oil, available in both synthetic and conventional. Each motor oil type is available in a variety of different grades and sizes suitable for the purpose and machinery which you require.
We offer both heavy-duty motor oils and passenger motor oils, whether you're looking for synthetic motor oils or it's conventional counterparts. Our motor oils are available in different types, with a variety of different grades and sizes suitable for a broad range of applications. For further information, feel free to contact us!
Regina Motor Oils: Full Delivery
At 49 North, we take pride in being fast and reliable, from our products to our services. We employ a fleet of delivery vehicles dedicated to ensuring our motor oil products are at your job site, business or home precisely when you need them. With our full delivery options for the Regina area, you can count on us for your motor oil needs.
Contact us for more information on how we can help eliminate friction and get you ready for the road. See our products by clicking the link below or call one of our engine oil specialists at (306) 205-7910.
Full Synthetic Motor Oil and Synthetic Blends
Looking for a synthetic oil offering extended performance and superior lubrication? We carry heavy duty and passenger car synthetic motor oils with different specifications and formulas, so we guarantee that we have what you need. The pros of using full synthetic or synthetic blend oils is their naturally higher viscosity. Compared to mineral or conventional oils, synthetic engine oils are more stable when starting your vehicle or during operations, and last longer in between oil changes.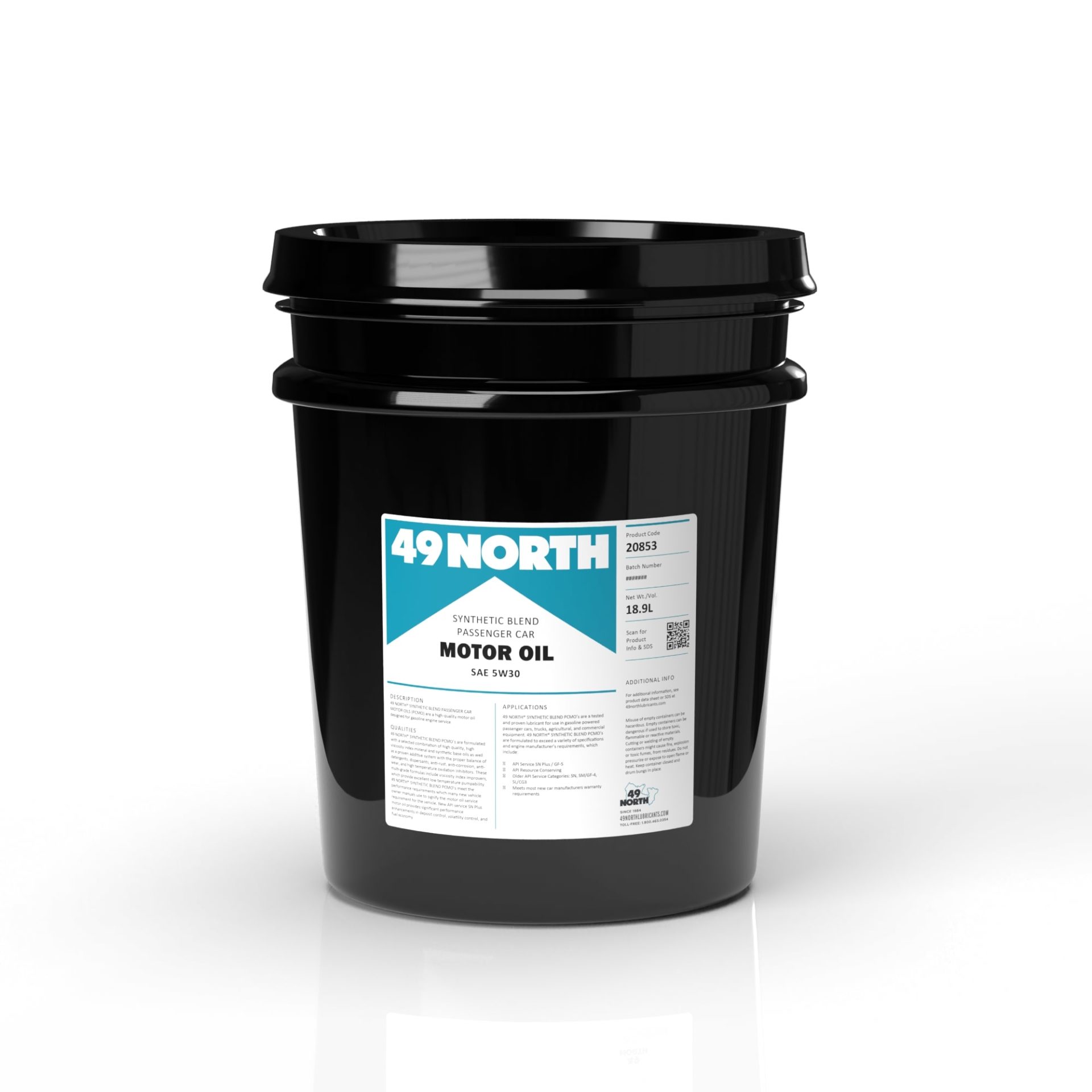 Do you deliver motor oil to customers in Regina?
Yes! 49 North Lubricants employs a dedicated fleet of delivery vehicles that are committed to fulfilling all of your motor oil needs throughout Western Canada, including Regina.
What is the difference between synthetic motor oil and conventional motor oil?
Conventional motor oil is a lubricant that is directly derived from crude oil. Synthetic motor oil, however, is one that is processed and refined even further in order to eliminate any remaining contaminants. This results in motor oil that is more durable and can withstand increased heat, as compared to its conventional counterparts. You can opt for full synthetic motor oil or even a synthetic blend motor oil.
Contact 49 North Lubricants or refer to your machinery's owner's manual for more information about which type of motor oil is right for you.
What is the difference between heavy-duty motor oil and passenger car motor oil?
Heavy-duty motor oil is designed to combat soot and prolong the drain intervals required for the engine. Due to this, heavy-duty motor oils require more detergent and dispersants, as opposed to the regular passenger car motor oil. Additionally, viscosity grades are also much higher in heavy-duty motor oils.
What grade of motor oil should I purchase?
It is important to remember that the grade of motor oil refers to the viscosity of the product. The numbers in the viscosity designation (ex. 10W-30) refers to the resistance to thinning and thickening in the particular grade of motor oil. In order to determine the correct motor oil for your machinery or vehicle, the best thing to do would be to consult your owner's manual.
How often should I change my motor oil?
This depends largely on a number of factors, so there is no conclusive answer to how often your engine should have an oil change. Some factors to consider include: whether you have a heavy-duty or passenger car engine, the frequency of use, as well as the climate in which it is used. Feel free to contact us at 49 North to find out more about which motor/engine oil is right for you.
Does your motor oil meet API specifications?
The API, or the American Petroleum Institute is the largest U.S. Trade Association that represents all aspects of the oil and gas industry, establishing and maintaining standards for companies. 49 North Lubricants motor oil currently meets all ILSAC and diesel standards established by the API.
For automotive gasoline engines, the latest ILSAC standard (GF-6A and GF-6B) includes the performance properties of each earlier category (GF-5, GF-4, GF-3, GF-2, GF-1), while the latest API Service Category (SP) includes the performance properties of each earlier category (SN, SM, SL, SJ). For high-speed four-stroke cycle diesel engines, the latest API Service Category (CK-4) includes the performance properties of each earlier category (CJ-4, CI-4, CH-4). Current and latest standards can be used to service older engines where earlier category motor oil was recommended. However, vehicle owners should always refer to their owner's manuals for the specific grade of motor oil required, since motor oil may have more than one performance level.
What are the types of engine oil?
Your engine oils are available as conventional, synthetic blend, or full synthetic. These categories are based on quality. But what is really the difference between them?
The most common difference is the type of base oil used in the blending process. The American Petroleum Institute (API) classifies base oils into five major groups. These groups are based on the level of saturates, sulfur, and viscosity index. Conventional oils are sometimes called mineral oils and are made up of base oil from Group I and II as set by API classifications.
Synthetic blends are made from a mixture of conventional and synthetic base oils. This process means there are some benefits of a synthetic product but with a lower cost. The issue with synthetic blends is there are currently no regulations in North America that state how much synthetic base oils must be used. They could be as little as 1% synthetic base oil to be called a synthetic blend. Higher quality synthetic blends will use 20 to 40% synthetic base oils but you won't be able to see that information on the label
Synthetic oils are chemically engineered to have fewer impurities and better properties for higher performance. Full synthetic oils offer better start-up protection during cold weather winter months, as well as better heat resistance, and enhanced durability when compared to a conventional product.  Click here to find out what the 12 benefits of switching to full synthetic engine oil are.
Which oil is best for my engine?
The first step in choosing which oil to put in your car would be to check with your vehicle manufacturer or vehicle owner's manual, as each type of engine is made to work with a specific type and grade of oil. Since motor oil changes in viscosity depending on the temperature, the climate is also an important factor to consider. Feel free to contact 49 North for more information regarding the type of motor oil to use for your engine.
Do you offer a warranty on your products?
Yes! On top of offering the highest quality products and a full guarantee, we provide warranty based on specifications applications. See our full warranty information here or contact us for any questions.