Southern Alberta's chosen provider of alcohol hand sanitizer.
It's no secret that most Lethbridge residents take cleanliness and hygiene very seriously. In these turbulent times, this is more important than ever. No one wants to risk an influenza outbreak because they happened to run out of hand sanitizer that day. They want to be as sure as they can be that their businesses and homes are sanitized to the fullest extent possible. That's why Lethbridgians never underestimate the role of antibacterial hand sanitizer.
When used properly, alcohol hand sanitizer can kill over 99%of bacteria and germs on a given surface, reducing the chances of getting very sick. We supply antibacterial liquid sanitizer to customers from a variety of businesses and organizations in Lethbridge and across Western Canada. Our fleet of delivery vehicles will get your alcohol sanitizer order to you, rain or shine (or blizzard). Don't sacrifice productivity and waste unnecessary time because of sick workers who didn't sanitize their hands.
Automatic Hand Sanitizer Dispensers With Stands
49 North Lubricants also supplies automatic hand sanitizer dispensers. We have 1000mL refillable automatic dispensers with touch-free, motion-captured sensors. With a non-dripping, waterproof design, these units can be easily wall-mounted or placed on a stand.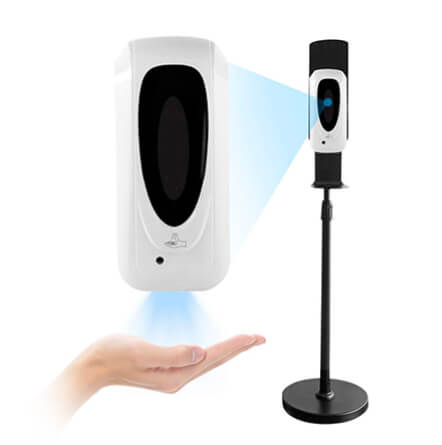 Do you deliver to customers in Lethbridge?
We have a dedicated team that delivers to customers across southern Alberta, including Lethbridge.
What percentage of alcohol is in your hand sanitizer?
Our hand sanitizing solution contains 75% Isopropyl Alcohol.
Is your hand sanitizer liquid or gel?
49 North antibacterial alcohol sanitizer is a liquid solution.