We supply alcohol hand sanitizer to businesses of all sizes in Regina.
49 North knows from experience that the residents of Regina, Saskatchewan are extremely diligent when it comes to keeping their hands clean and properly sanitized. They also want to ensure that their homes and places of business are as germ-free as possible at all times. That's why they understand how important it is to stock up their inventory of antibacterial hand sanitizer.
Applying alcohol hand sanitizer after touching potentially contaminated surfaces drastically reduces the chances of contracting the flu or other viruses. Our sanitizer is WHO approved and meets all Health Canada safety requirements. We deliver bacteria-eliminating liquid sanitizer that kills germs to customers from a range of businesses located throughout Regina, Saskatchewan, and Western Canada. Our delivery team will bring your alcohol liquid hand sanitizer order to wherever you are so that you can keep your coworkers and staff healthy.
Automatic Hand Sanitizer Dispensers With Stands
49 North Lubricants also supplies automatic alcohol hand sanitizer dispensers that kill germs in Saskatchewan. We have an inventory of 1000mL refillable automatic dispensers with touch-free, motion-captured sensors. With a non-dripping, waterproof design, these units can be easily wall-mounted or placed on a stand.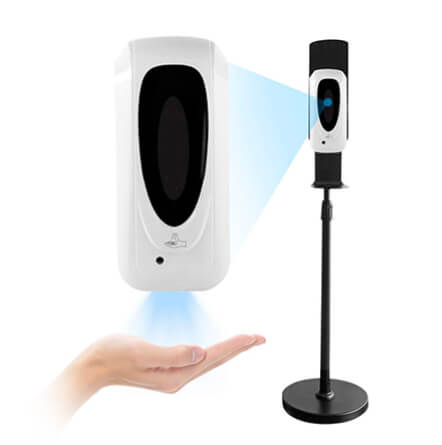 Do you deliver to customers in Regina?
We have a dedicated team that delivers alcohol hand sanitizer to customers across Regina and throughout Western Canada.
What percentage of alcohol is in your hand sanitizer?
Our hand sanitizing solution contains 75% Isopropyl Alcohol.
Is your Regina alcohol hand sanitizer liquid or gel?
49 North antibacterial alcohol sanitizer is a liquid solution.